Piero PLAYER REVIEW
This article reviews three players in FIFA 23: Zidane, Yaya Toure, and Del Piero. Among the three, Zidane is considered the most loved midfielder for players in terms of gameplay, with excellent passing and shooting skills and strong defensive abilities. Yaya Toure is highlighted for his defensive dominance, while Del Piero is praised for his shooting ability, 5-star skill moves, and 5-star weak foot. The article also recommends chemistry styles for each player and suggests their best positions on the field.
Zidane
In terms of data, the TrophyTitans Zidane with an HH mentality, compared to the high-end version with 6 added points in Defending and 16 added points in Def.Awareness, is more suitable for playing as a double CM. If you play in a position similar to the attacking CM, then this version of Zidane doesn't have much improvement in terms of attacking significance. This is a card that has already qualified from a defensive standpoint as a defensive midfielder or a B2B midfielder. In previous versions, it was recommended to pair Zidane with a more defensive card when playing as a double pivot, but this version is almost a wild card and can be paired with a comprehensive B2B. In the late game of this game in April, try more double B2B midfield combinations, and the gaming experience will definitely be improved.
As for Zidane's attacking abilities, there is no need to discuss it. He is truly strong, with excellent passing and shooting skills. Although Agility is not very good, he has extremely high dribbling and ball control attributes, making it hard to take the ball away from him. With 97 vision, 97 short passing, 96 long passing, and a 5-star weak foot, he is a monster, able to create opportunities with just a small gap. His shooting skills are also top-notch, both inside and outside the penalty area, and he can even be played as a striker if desired.
On the defensive end, although Zidane's model appears average, his 185cm height and 90 strength make him quite strong in confrontations. He has strong frontal abilities and an 80 defense awareness and H defense mentality. In the case of chemical shadow eating, his positioning is also relatively high, and he rarely needs to be pulled by hand. In this aspect, compared to other versions of Zidane, he has undergone a qualitative change.
Overall, this may be the second-best midfield in the game right now, second only to Gullit. But Zidane is definitely the strongest version ever, and it's worth a try for players with the budget.
Yaya Toure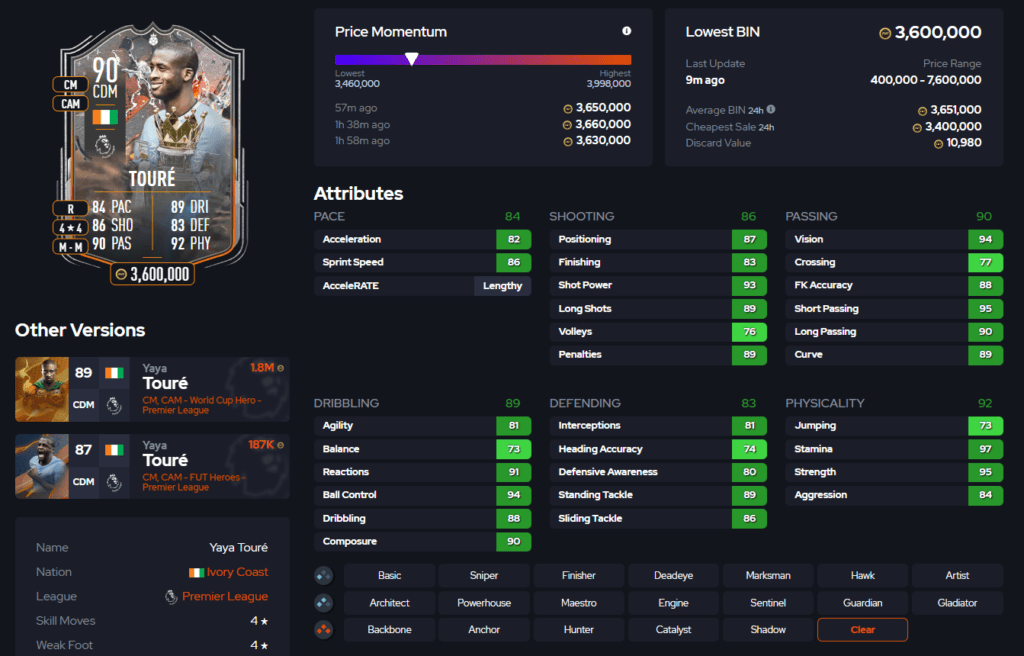 Yaya Toure is currently one of the top midfielders in the game.Yaya Toure may be slightly weaker than Zidane in some aspects (mainly dribbling), he also has his own advantages. Although his defensive attributes may not be much higher than Zidane's, his defensive dominance is definitely higher than Zidane's.
I believe everyone is familiar with Yaya Toure in the game. Let's talk about whether there is a qualitative change compared to Marvel. The biggest improvement of this card compared to Marvel's Toure is two points in speed, dribbling, and passing. Generally, one point of data is difficult to feel, but two points make a significant difference. In actual experience, Yaya Toure has improved in speed and dribbling, and his passing has always been good enough, although not as good as top-class passers like De Bruyne.
As for defense, Yaya Toure is as reliable as ever. The model gives a sense of stability, and you don't want to go up against him in a challenge or you'll be crying!
Overall, if you have an untradeable Marvel Yaya Toure, there's no need to use this card. If you can pair up with two chemistry styles or more with Belin, there's also no need to use this card. But if you're into the Premier League and want to purchase a versatile monster, then Yaya Toure is a great choice.
Chemistry style recommendation: Shadow.
Del Piero
Compared to his high-end card, this Piero card is definitely a qualitative change, with all data greatly expanded, especially in speed and balance. The key point is that he has gone from 4-star skills to 5-star skills, and he's also naturally 5-star weak foot. Another frontcourt player with 5-star skill moves and 5-star weak foot is born.
Chemistry style recommendation: Hunter (Piero's chemistry style is a bit awkward, as his 89 base pace is far from maxed out. I would go for Hawk or Engine if his pace can be boosted to 92 with the chemistry style.)
In terms of position, I think his best position is as one of the strikers in a two-striker system, or as a CAM in a 4231 or 41212 formation, paired with a physically strong player. He could also play as a CF or on the wings in a 4321 or 3421 formation. Many people ask whether he can play as an attacking midfielder. I think he can, but it's not ideal because his native advantages such as 98 finishing, 5-star weak foot, and good dribbling skills would be overshadowed, while his disadvantages such as poor physicality and low strength would be amplified.
Even with the Hunter chemistry style, his speed is not fast, but rather average.
One of his characteristics is his shooting ability, with a native 98 finishing, and 93 shot power and 95 composure after chemistry style boost, paired with 5-star weak foot, he is a huge threat in the penalty area. He also has a flair trait, combined with 94 long shots, 93 curve, and 5-star weak foot, he can shoot from outside the penalty area as well.
In terms of passing, he is also great among frontcourt players, with 97 vision and 92 short passing.
Although his agility is only 88, his ball control and dribbling are both at 97, combined with his unique model, he is still considered good at dribbling.
His weakness is in physicality. He's not as easy to knock down as Del Piero or Vieri, but he still needs to rely on dribbling skills to avoid being tackled. In other words, he's not very good at "mixing it up".
In summary, I think the price of 1.4 million coins is okay, after all, he's a 10-star striker with maxed out finishing. Apart from his poor physicality and average speed, he doesn't have any major weaknesses. If you need a partner for your big target man striker, he would be a good choice. I even think he's a bit like a budget version of the Birthday Black Panther in terms of positioning.
Overall, these players offer unique gameplay experiences and can be valuable assets to any team. However, players should consider their strengths and weaknesses before adding them to their squad. With the right chemistry style and team composition, these players can help players achieve success in FIFA 23. So, visit buymmog.com to buy FIFA 23 coins and get the best players to take your team to the next level.