Research conducted by NIH shows that teamwork is directly related to productivity and work performance. While working alone on a project is excellent, studies have shown that you'll perform even better with improved efficiency when you work with a team. Collaboration and communication increase performance, boost productivity, foster innovation, and encourage quicker project completion.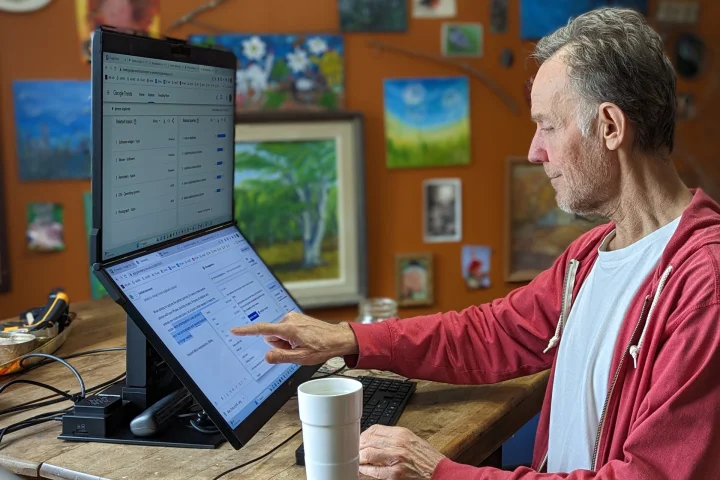 While stacked monitors already boost performance (especially if you're using the Geminos stacked monitors), you can improve your work performance by enhancing collaboration. In this article, we'll discuss, in detail, how to enhance cooperation and communication with stacked monitors.
Understanding Stacked Monitors
Before we go into the benefits of these monitors for collaboration and communication, let's discuss what stacked monitors are and what they do.
Stacked monitors (just as the name implies) are monitor setups that involve the vertical alignment of two or more monitors. Therefore, the result is a tall display that works best for workspace organization, content viewing, and multitasking.
Are stacked monitors truly beneficial for collaboration?
The simple answer is yes. Nonetheless, here are three reasons to back up this answer:
Stacked monitors enhance visual engagement
An article posted on HBR (Harvard Business Review) mentions that visual tools help to improve teamwork. But much more than that, people engage better when content is visualized rather than printed in text and numbers. That's why many companies and fields are starting to involve visual engagement tools and other related technologies. But how do stacked monitors come in? With the bigger screen, it becomes easier for many team members to collaborate on design projects, presentations, or data analysis. Team members can view intricate details and data visualizations with the tall canvas without constant scrolling or zooming.
Stacked monitors promote effortless screen sharing
During collaborative meetings, it is usual for team members to share their screens during presentations or referencing. However, you can only do a single thing simultaneously with the conventional monitor setup. However, with the stacked monitors, you can share your screen seamlessly on one monitor and take notes, research, or find more resources on the other screen setup.
Stacked monitors foster seamless document comparison
Sometimes, you'll need to compare between two or more documents during team collaboration projects. While this could be a Word document and a spreadsheet, it is more challenging if you have to switch tabs frequently during comparison. With the multiple screens, everyone involved can view both dates simultaneously, leading to enhanced productivity, fewer human errors, and quicker performance.
How can you improve collaboration and communication with stacked monitors?
Now that you know just how beneficial the monitor setup is for collaboration, let's look at how you can optimize teamwork and communication.
Reduce communication lag with efficient multitasking
Teams will always need to communicate during projects for many reasons. Whether it is to confirm information, clarify a message, or report progress, keeping the communication line open is always necessary. However, it is also normal for a person to be buried deep inside a project and forget to check emails for messages. To eliminate this problem, team members should keep chat channels (including email sites) on one monitor while working on the other. That way, teams will be alerted immediately when a message comes in.
Minimize distractions by organizing your files
Cluttered space can lead to stress, reduced productivity, and inefficiency. It is even more frustrating to sort through disorganized files during collaborative meetings and presentations. To avoid wasting time or showing unprofessionalism, use the additional screen real estate provided by stacked monitors to organize your content effectively. Use one monitor as your primary workspace and the other for reference materials, communication tools, or secondary tasks. With this form of order, you'll be able to sort through files seamlessly, which leads to better collaboration and communication.
Brainstorm better with collaborative whiteboarding tools
It's not easy to use collaborative tools with the conventional monitor setup because of the limitation of screen space. However, with the multi-screen configuration of stacked monitors, you can enable your whiteboarding application on one screen while keeping your communication channels open on the other. Collaborative whiteboarding tools are increasingly popular for brainstorming and ideation sessions, and this seamless integration of collaboration tools can enhance creativity and problem-solving.
Some things to note before using stacked monitors for collaboration
If you want to maximize these benefits, then you need to do the following things right away:
Set up the size and resolution for the monitor before use to make it easier for you and your team members to read documents, view presentations, and engage in video conferences.
Calibrate the color and brightness, primarily if your projects deal with colors, design, or editing tasks.
Invest in adequate graphic cards and hardware since stacked monitors need more graphic processing power than the conventional single-screen monitor setup.
Note that stacked monitors take up more vertical space and may weigh much more than traditional monitors. Therefore, set up an adequate workspace for it.
Just as with other types of monitors, ensure that the software you use is optimized for stacked monitor configurations so that you can further enhance your teamwork experience.