Introduction
For decades, The Legend of Zelda series has been a beloved cornerstone of the gaming world, captivating players with its rich lore, memorable characters, and immersive adventures. Originally exclusive to Nintendo consoles, fans of the series have long dreamed of experiencing Hyrule and its legendary hero, Link, on a different platform – the PC. While Nintendo has been notoriously protective of its intellectual properties, the gaming community's persistent enthusiasm has led to exciting developments in recent years that have made it possible to play The Legend of Zelda on your personal computer.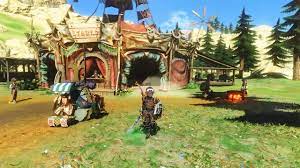 Emulation and ROMs
One of the primary methods for playing The Legend of Zelda games on a PC is through emulation. Emulators are software programs that mimic the functionality of a console, allowing you to play games designed for that console on your PC. To play The Legend of Zelda on a PC, you'll need to find suitable emulators and ROMs (read-only memory files) of the games you want to play. While the legality of downloading ROMs remains a gray area, it's essential to ensure that you only download ROMs for games you already own to stay on the right side of the law.
Popular emulators for playing The Legend of Zelda games on PC include Dolphin for GameCube and Wii titles and Cemu for Wii U titles. These emulators have come a long way in terms of performance and compatibility, offering a smooth and authentic Zelda experience.
Zelda Modding Community
Another exciting aspect of playing The Legend of Zelda on PC is the thriving modding community dedicated to enhancing and expanding the gaming experience. Talented modders have created various mods that offer new quests, graphics improvements, quality-of-life enhancements, and even entirely new fan-made Zelda games. These mods breathe new life into classic titles and provide fresh challenges for die-hard fans.
One notable example is "The Legend of Zelda: Breath of the Wild," which has seen a wealth of mods, including graphical overhauls, custom dungeons, and new gameplay mechanics. These mods have allowed players to explore Hyrule in ways they never thought possible and extend the game's longevity.
High-Quality Visuals
One of the advantages of playing Zelda games on a PC is the potential for superior graphics and visual fidelity. With a powerful gaming rig, you can run these games at higher resolutions and frame rates, making your adventures in Hyrule even more immersive. Mods and emulation settings can further enhance the visual quality, making the classic titles feel like modern masterpieces.
Controller Compatibility
To replicate the authentic Zelda experience, many PC gamers use a variety of controllers, including Nintendo's own controllers like the Switch Pro Controller or older GameCube controllers. Connecting these controllers to your PC is relatively straightforward, allowing you to relive the nostalgia of playing The Legend of Zelda as it was meant to be played.
Online Multiplayer
Some fan-made mods and emulators even offer online multiplayer functionality. This means you can team up with friends or other Zelda enthusiasts to explore dungeons, solve puzzles, and battle bosses together in a shared Hyrule adventure. Online multiplayer can add a new layer of excitement to classic Zelda titles and foster a sense of community among fans.
Conclusion
While Nintendo has yet to officially release The Legend of Zelda titles on the PC platform, the gaming community's passion and innovation have allowed fans to experience Hyrule on their personal PCs. Emulation, mods, high-quality visuals, gamepad compatibility, and even online multiplayer have made playing The Legend of Zelda on PC a reality for many fans. The world of Hyrule is more accessible and thrilling than ever before on the PC, whether you're revisiting classic classics or discovering new fan-made adventures. So grab your Master Sword and embark on your next epic Zelda adventure today.
Related article:
Evеrything You Nееd to Know About thе Rеd Panda Cost
7 Hemp Facts You Need to Remember