Running an eCommerce business successfully does not have to deal with the material products themselves. In case you have skills in marketing, you can easily outsource inventory management as well as just concentrate on what you are good at.
There are many methods for selling products on Amazon without inventory. So, let's know about those methods and start selling without inventory!
How to Sell on Amazon Without Inventory
So how can you sell products on Amazon without having any inventory? Let's go over the most common and successful techniques so you can decide which is best for you, your business, your objectives, and your budget.
Dropshipping
Among the most common options for consumers wishing to start selling on Amazon without keeping real inventory is dropshipping. Because all of the merchandise will be handled and kept at a 3rd party fulfillment center, you do not need to maintain your own warehouse space.
After a customer buys something from your store, the suppliers receive the order and prepare to deliver the merchandise to your ultimate consumer.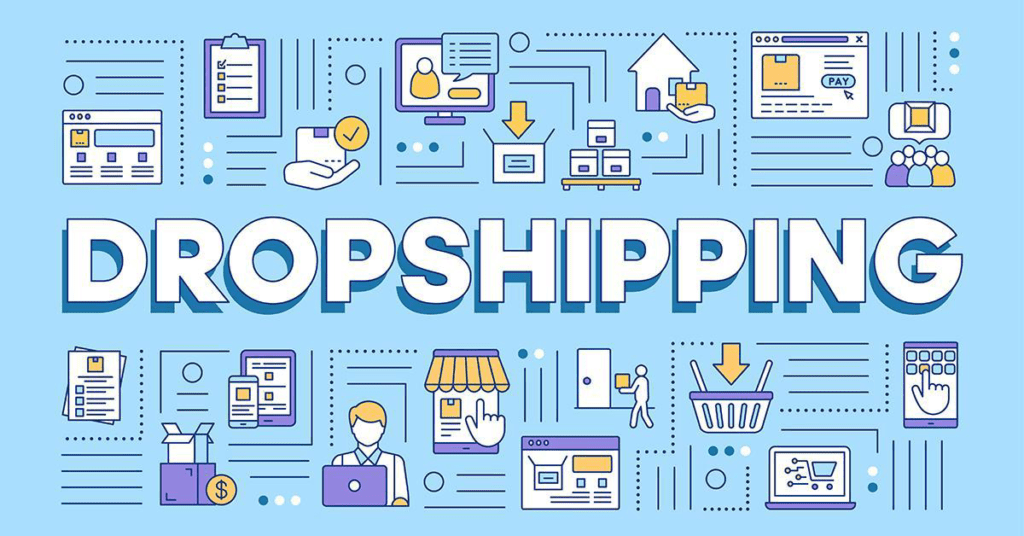 A dropshipping solution enables you to sell through a variety of sales avenues, from a solo website to marketplaces, but it necessitates specific marketing care due to the intense competition.
Gaining a competitive edge and overcoming customization problems will be made easier when you incorporate print-on-demand into your dropshipping business.
How it functions:
Sellers perform product research as well as look for suppliers of dropshipping that provide the products they wish to sell on the e-commerce platform.
Then sellers make the product listing with the products available in an online store, marketplace, or on Amazon.
After that comes the marketing plan to get the items in front of your clients.
Clients then buy the dropshipping site's items.
The supplier of dropshipping will send the items to the ultimate client.
Pros
No need to handle inventory
Small startup fees
Cons
Dependency on 3rd parties
No or little customization
Shipping, as well as delivery times, are longer than usual
Quality control lack
High competition
Third-Party Logistics Or FBM (Fulfillment by Merchant)
Sellers going for Amazon Fulfillment By Merchant (FBM) have to handle inventory, packing, and shipment, as well as offer client services all by themselves only.
Using Amazon Fulfillment By Merchant needs the sellers to dropship products or utilize 3rd party inventory methods, as your product won't be stored as well as processed by the fulfillment centers of Amazon.
Inventory management assistance is provided by third-party logistics suppliers (3PLs), including storage and transportation. 3PLs are distinct from print shops or dropshipping vendors. They provide storehouse storage and shipping services, as well as the collection, inspection, and packing of goods.
The majority also handle client returns when necessary. The success of an FBM company is heavily reliant on its partnerships. Do extensive market research on your target market and acquire reliable third-party solutions before digging into the model.
Check to know whether the third-party method's services cover the needs of your business, particularly shipping to the preferred locations or not.
How it functions:
You can go for selling as an Amazon dropshipping shop or utilize 3PLs to manage logistics as well as fulfillment.
You have to create your storefront on Amazon as well as sell items.
The dropshipping provider, 3PL, or print provider will manage the logistics as soon as clients buy products.
Pros
Partnering with high-quality 3PLs lets scalability and adaptability throughout seasonal peaks
Freedom for vendors to create as well as design items and concentrate on marketing
Cons
It's difficult to guarantee quality control
Middle to high startup fees as it needs buying inventory as well as spending with assistance
Little control over product distribution and stock
Print-On-Demand (POD)
Print-on-demand or (POD) is a genuine addition to a dropshipping service out there as it adds personalization and solves a few drawbacks of the dropshipping prototype.
POD works like the dropshipping system – the brokers act as a middleman between manufacturers and customers.
Clients order items online, which are then shipped to a preferred fulfillment center. The manufactories customize blank items and then manage inventory as well as dispatching immediately after obtaining the order from the vendors' online store.
Marketing items with print-on-demand (POD) is the most suitable way to deal with customized products without stressing about inventory control. Nonetheless, POD items have little higher retail costs than wholesalers', thus, sellers should often lower their margin of profit to be competitive.
How it functions:
You partner with a POD service or print provider.
You design as well as customize items and list the products online.
Customers buy items. The order is sent to the manufacturer, who then prints the designs, packs them, and then handles the shipping procedure.
Pros
No upfront fees
No need to have personal warehouse space
Products are made only after the buyer commits to purchasing
Cons
Checking item quality can be hard
Lower profit margin
Fulfillment by Amazon Or FBA
FBA is assistance that allows merchants to send their items to Amazon fulfillment centers, which will manage packages, shipment, and also other logistics.
The items can be sent to Amazon's storage directly from a storage facility or your residence.
How it functions:
Sellers/Vendors sign up for their Amazon seller accounts with an individual (for each sale of $0.99) or professional ($39.99 per month) plan as well as set up their FBA company.
As soon as creating product listings, vendors specify that they trade utilizing FBA inventory.
The Amazon FBA seller ships the goods to a fulfillment facility to Amazon's shipping and packing requirements.
Pros
24/7 consumer support, managed by Amazon
Amazon FBA comes with great prestige and a network
You don't have to store products
Cons
Little authority over fees and pricing
No low-stock information– you need to track FBA inventory manually
Commission, referral, and also storage fees
FINAL WORDS
You now understand the many strategies for selling on Amazon without inventory, ranging from print-on-demand (POD) and partners to Amazon FBM and FBA. We also went over the several platforms, plugins, and also eCommerce builders which enable you to find things to sell on Amazon without keeping stock.