Capturing and maintaining the attention of increasingly discerning audiences has become a formidable challenge. With the traditional model of passive content consumption gradually giving way to a more immersive and interactive experience, the landscape is ripe for transformation. This is where CapCut's Creative Suite, a dynamic video editing tool, has emerged as a transformative force, poised to reshape the way audiences interact with digital content. In this article, we will delve deep into the heart of the matter, exploring how CapCut's Creative Suite, along with integrated features like an online photo editor, has masterfully redefined audience engagement and elevated it to an unprecedented level.
Audience Engagement: A Shifting Landscape
In today's digital landscape, audience engagement is not merely a goal but the Holy Grail for creators and brands. It is the desired interaction that turns passive viewers into active participants. With the ever-evolving content, capturing and keeping the audience's attention has become a huge challenge. Traditional content consumption, where individuals would passively observe videos or scroll through images, is gradually giving way to a more immersive and interactive experience. This transformation is where CapCut's Creative Suite steps in as a game-changer. It recognizes that audiences now crave more than just static content – they want an experience. They desire to be a part of the story, to engage, to contribute, and to connect on a deeper level. CapCut's Creative Suite, a dynamic video editing tool, has, in many ways, revolutionized how creators and brands approach this challenge. It provides innovative features and capabilities that allow content creators to redefine audience engagement and take it to a whole new level. As the digital world constantly evolves, the suite's unique combination of tools and features has become an essential asset for content creators. These tools offer an avenue for enhanced audience interaction, opening doors to a realm of creative
possibilities. Interactive elements combined with emotionally charged storytelling create a potent mix that resonates with audiences and keeps them coming back for more.
The rise of active participation, interactive features, emotionally charged storytelling, and creating feedback loops that foster community and collaboration are just some of the elements of a comprehensive strategy. That CapCut's tool has established to redefine audience engagement. The suite's commitment to empowering creators and brands in engaging, inspiring, and connecting with their audience promises an exciting future where content isn't just consumed but experienced. It's a future where creators and viewers become co-creators and actively participate in a shared journey of storytelling and engagement.
The Rise of Active Participation
This shift towards active participation represents a significant development in digital content. The audience is no longer content with being passive observers; they crave engagement and interactivity. CapCut's Creative Suite recognizes this changing dynamic, and its features are strategically designed to foster deeper connections between creators and their audiences.
One of the ways CapCut accomplishes this is through its interactive elements. The toolkit allows creators to seamlessly integrate interactive elements like clickable links, buttons, and embedded surveys directly into their videos. This means that viewers can take action while watching, whether it's exploring more content, participating in a poll, or even making a purchase. This level of engagement not only enriches the viewer's experience, but also provides valuable data for content creators and brands to better understand their audience. Furthermore, CapCut encourages audience engagement through storytelling techniques. Creators can use the toolkit's tools to craft narratives that elicit emotional responses, prompt discussions, or even challenge viewers' perspectives. This encourages audiences to not only watch but also reflect, share, and interact with the content.
The transformation from passive to active participation fundamentally changes the way we consume digital content. It creates a sense of involvement, making the audience feel like they are a part of the story or conversation rather than just spectators. This deeper level of engagement holds immense potential for content creators and businesses, as it fosters loyalty, brand advocacy, and community building. CapCut's Creative Suite, by aligning with this shift, empowers creators to captivate their audience and drive meaningful interactions. In the age of active participation, the toolkit is a valuable tool for those who wish to make a lasting impact in the digital content landscape. The potential to connect, communicate, and engage on a profound level has never been more accessible, and it's all within your creative grasp.
Interactive Features: Engaging the Senses
The integration of interactive features within CapCut's Creative Suite opens new avenues for audience engagement. Creators can incorporate elements that stimulate multiple senses – visual, auditory, and even tactile – to forge a deeper connection with viewers. Features like clickable links, 360-degree videos, and augmented reality experiences enable the audience to explore content actively. As a result, they become more invested in the narrative, and their level of engagement skyrockets.
Emotionally Charged Storytelling
While interactive elements play a pivotal role in enhancing audience engagement, emotionally charged storytelling remains a cornerstone. CapCut's Creative Suite offers creators the tools to craft narratives that resonate with viewers on a profound emotional level. By tapping into universal human experiences, such as love, loss, hope, or triumph, creators can evoke empathy, understanding, and compassion, thus fostering a unique connection.
Through emotional storytelling, content transcends mere information sharing; it becomes an experience, a journey that viewers willingly undertake. They feel as though they are not just watching content but living through it, resulting in a heightened level of engagement. The emotional bond formed with the content creator strengthens, encouraging viewers to return for more and share the content with their network.
Feedback and Participation
Audience engagement extends further than content interaction; it encompasses active participation and collaboration. CapCut's Creative Suite facilitates this through feedback loops. Creators can use the suite to gather audience feedback, conduct surveys, and involve viewers in decision-making processes. This participatory approach fosters a sense of community, wherein creators and audiences work together to co-create content.
For creators, this community-driven approach encourages loyalty and advocacy, as the audience feels like an essential part of the content's development. It also fosters a two-way conversation, allowing creators to better understand their audience's preferences and needs. As a result, content evolves to be more tailored and relevant, further enhancing audience engagement.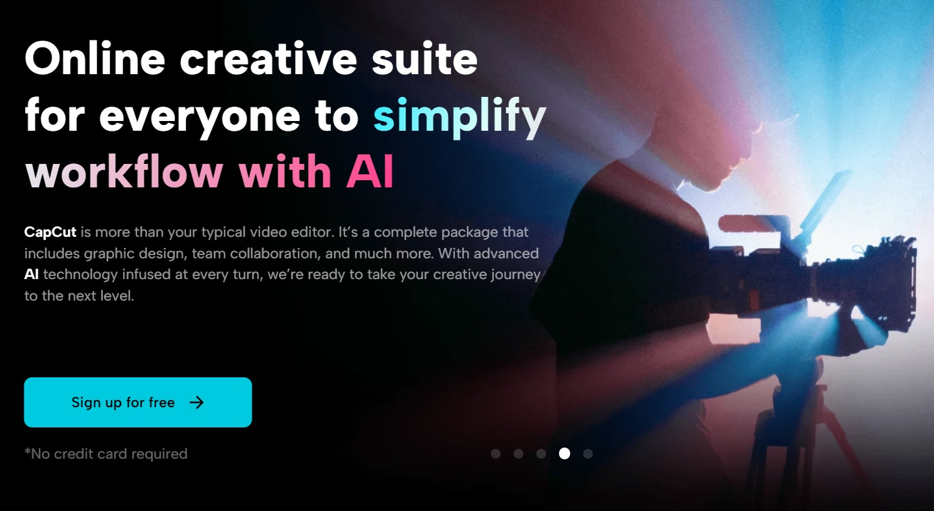 Conclusion
In a world where audience engagement is the gold standard of digital content success, CapCut's Creative Suite takes the lead in redefining the rules of engagement. It transforms viewers into active participants who interact, feel, and become an integral part of the digital journey. With interactive elements and emotionally charged storytelling, this suite enhances the viewer experience and elevates the art of audience engagement to new heights. As content creators continue to explore the capabilities of CapCut's Creative Suite, the digital landscape evolves into a realm where the audience is not just a spectator but an essential collaborator in the storytelling process. The inclusion of 'video to text' features further enriches the interactive experience by providing accessible and engaging content for a broader audience.