Are you planning to dress up like a geek at the next birthday party or costume party that you will be attending? Well, you won't have to put in a lot of effort to do it properly, whether you want to learn how to dress like a geek for Halloween, a costume party, or a theme day at school. It's simple and inexpensive to dress like a nerd. Furthermore, you may carry off your appearance without sticking to specific clothing. Put your touch on how to look like a geek by just using your creativity. Below, we have gathered some tips that will help you recreate the geek costume that you have in mind for your next costume party.
Tips on Dressing Like a Nerd
Here are some ideas to get you going:
While female nerds prefer to wear argyle sweater vests with plaid shirts, male nerds can dress in short-sleeved Oxford shirts with pocket protectors. Star Trek or Star Wars logo-adorned tight shirts are acceptable for both men and women. To achieve a truly geeky appearance, just be sure to tuck your shirt into your jeans.
When dealing with pants, keep in mind that wearing an ill-fitting one will make it look more like a geek outfit. Consider wearing tight, high-waist trousers that restrict your movement if you want to seem like a nerd. You'll walk more awkwardly and like a true nerd if you do this. In addition to that, you can use clip-on suspenders or a lengthy belt, to embellish your pants.
For want-to-be nerds, bowling shoes or uncomfortable saddle shoes are a need. Additionally geeky, black sneakers will go well with your nerdy outfit.
A nerd costume works well with mismatched argyle socks. Be careful to put on a pair of long, thick white socks in addition to high-waist trousers. Particularly if you're sporting a skirt or Bermuda shorts, the thicker, the better.
Girls should draw their hair back into a high bun or up in uneven pigtails. Guys should smooth back their hair with plenty of hair gel because most geeks wear their hair out of their faces. Consider putting a pen or pencil behind your ear to further improve the appearance.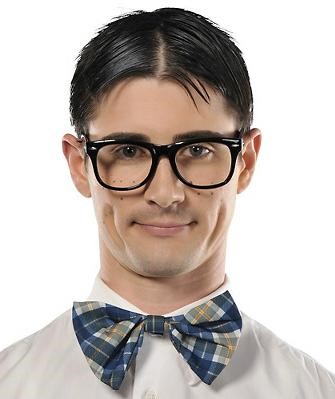 Accessorizing is the secret to coming up with a unique nerd outfit. Nerd accessories that are a must-have include:
Eyeglasses: Find a pair of large, black-rimmed spectacles with a strip of tape running down the center of the frame and place it on the tip of your nose. You can find plenty of these when you search for glasses online cheap.
Watch: A big watch is another must for nerds, particularly an old-fashioned digital one with a calculator.
Bow Tie: No respectable geek ventures out into public without a bow tie. Choose the loudest colored or patterned bow tie you can find and wear hefty suspenders with it.
Backpack: Since most nerds are voracious readers, if you want to seem like a true geek, you need always be wearing a huge backpack. Look for a bag with several zipped pockets that is a bright color.
Extra Costume Advice
There are some other pointers to consider when learning how to dress like a geek. You need to talk in a high-pitched voice, for instance, to pull off your geek outfit. Additionally, think about giving yourself a wedgie or attaching a "Kick Me!" sign on your back before you arrive at your costume party. To complete the entire goofy image, draw some enormous freckles on your face if you don't already have them, and add some false buck teeth. Have fun at your party!