Dutch artist Vincent van Gogh is widely regarded as one of the most iconic painters, if not the best, in the history of art. This is because Van Gogh's paintings were not only aesthetically beautiful, but they also stimulated powerful emotions that could captivate viewers.
Van Gogh had a very short career, but that didn't stop him from creating over 2000 works of art, many of which now are iconic pieces. Throughout his life, Van Gogh suffered from mental illness and struggled with poverty, but today he is one of the best artists to ever exist.
Known for its distinctive style, Van Gogh's paintings were characterized by vivid colors, bold brushstrokes, and emotional intensity. In today's article, we will have a look at some of the defining characteristics of Van Gogh's paintings.
The Use of Color and Their Representation
One of the most distinctive characteristics of Van Gogh's paintings is his use of color. He used bright and bold colors in his paintings, which were a departure from the muted and subdued colors of his contemporaries.
Van Gogh was inspired by the vibrant colors he saw in the natural world, and he used these colors to create vivid and expressive paintings. He often used bold, bright colors in his paintings, such as Prussian blue, emerald green, and chrome yellow. He believed that color was an important tool for expressing emotions and moods in his paintings.
With a unique approach to color theory, Van Gogh believed that colors had emotional and psychological meanings. He stated that colors were one of the few elements in the world that could be used to convey specific emotions and moods. For example, Van Gogh used blue to convey sadness and melancholy, while yellow represented joy and happiness.
The Composition
Another important and distinctive characteristic of Van Gogh's painting is the composition, which was often unconventional and dynamic. Interested in showcasing a sense of movement and tension in his paintings, Van Gogh would use diagonal lines, asymmetrical balance, and unconventional perspectives to achieve movement and dynamism, which was simply brilliant.
In many of his landscape paintings, viewers can see the use of diagonal lines that creates movement and the flow of energy. For instance, in "The Starry Night," the cypress trees and the swirling sky are depicted with diagonal lines that give the painting a sense of dynamism and movement.
Van Gogh also often used asymmetrical balance in his compositions, creating paintings that were unbalanced but visually dynamic. For example, in "The Potato Eaters," the figures are clustered on one side of the painting, creating an unbalanced composition. However, the use of light and shadow and the sense of intimacy between the figures create a sense of depth and complexity in the painting, in which Van Gogh was an expert.
The Brushstrokes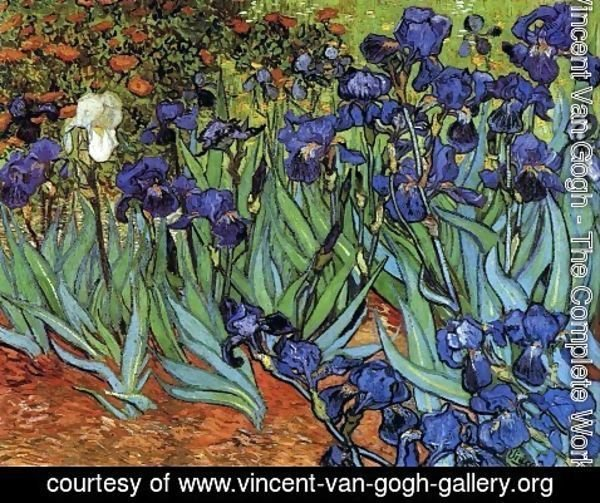 Next, the brushstrokes. Van Gogh's brushwork was an essential part of his distinctive style. His use of impasto and alla prima techniques creates a sense of texture and spontaneity in his paintings, while his expressive brushstrokes convey a sense of emotion and movement. The distinctive brushwork helped to establish him as a pioneering painter who pushed the boundaries of traditional painting.
Van Gogh was renowned for his use of impasto, a technique in which thick layers of paint are applied to the canvas. This created a three-dimensional effect, giving his paintings a sense of texture and depth. He also used a technique called alla prima, in which wet paint is applied over wet paint, creating spontaneity and energy in his brushstrokes.
Often expressive and emotional, Van Gogh's brushstrokes could actually reflect his inner turmoil and struggles in life. In his self-portraits, for example, his brushstrokes are thick and rough, conveying the intensity and emotion of the painting. Similarly, in the iconic "The Starry Night," the swirling motion of brushstrokes gives a feeling of movement in the night sky that viewers can experience upon looking carefully.
Emotions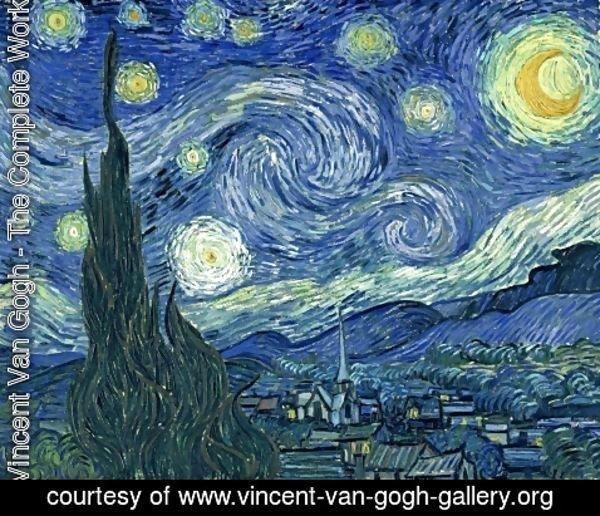 With the belief that art should be the reflection of the artist's inner emotions, Van Gogh characterized his paintings with emotions that he sought to convey. As a result, Van Gogh's paintings are full of intense emotions, ranging from joy and optimism to despair and anguish. He also cleverly and creatively used color, composition, and brushwork in his favor to convey his emotional states and, at the same time, create an emotional response in the viewer as well.
"The Starry Night" is one of the most famous Vincent van Gogh artworks and his use of emotion in his work. The swirling night sky, the bright yellow stars, and the cypress trees all create a sense of movement and energy, conveying Van Gogh's own sense of wonder and awe at the night sky.
Van Gogh's self-portraits were also filled with intense emotion and inner turmoil, conveyed using thick and rough brushstrokes. Like, in the "Self-Portrait with Bandaged Ear," he painted himself with a bandaged ear, reflecting his struggles with mental illness and his emotional pain.
The Bottom Line
In conclusion, Vincent van Gogh's paintings are characterized by his distinctive style, which includes the use of vibrant colors, expressive brushwork, unconventional compositions, and intense emotions. His innovative approach to painting helped to establish him as one of the most influential artists of all time, and his legacy continues to inspire not just new-generation artists today but also the viewers.