Balconies are a popular addition to many inner city homes, especially in urban centres such as Melbourne and Sydney. Relaxing on your balcony not only provides you with a breath of fresh air, but also an ickle of peace and freedom in the midst of a concrete jungle. Having plants on your balcony can turn it into an oasis, but setting it up can be a chore.
Factors To Consider
The first two factors in deciding on the style of your small balcony escape is space and light. If a balcony space is limited, focus on smaller plants that are more unique to create a focal point. Another good idea is to hang plant from the ceiling or have them cover walls to create more green space without sacrificing usable floor and living space. More green is usually good, but you don't want your plants to be squeezing you out as they grow. You don't want to place them where they might block too much of the natural sunlight either.

If the space allows it, a tiny forest might do. However, you need to ensure that each of your plants are reached by the energetic rays of the sun. Express a bit of your own personality in your selection of balcony plants. Add some green cover if you require more privacy, or grow some herbs if you enjoy having fresh ingredients to add to salads or to invigorate your pastas.

One important factor to keep in mind is that soil, especially when wet, can be very heavy. Make sure you don't overdo it with additional weight you add to your structure, or you might soon be shelling out for balcony repairs – or worse! For most apartments in urban areas like Melbourne you won't have enough space for huge plants that require large pots full of soil, but for those of you with rooftop balconies or huge spaces, it would be best to check the structural rigidity before adding too much additional weight.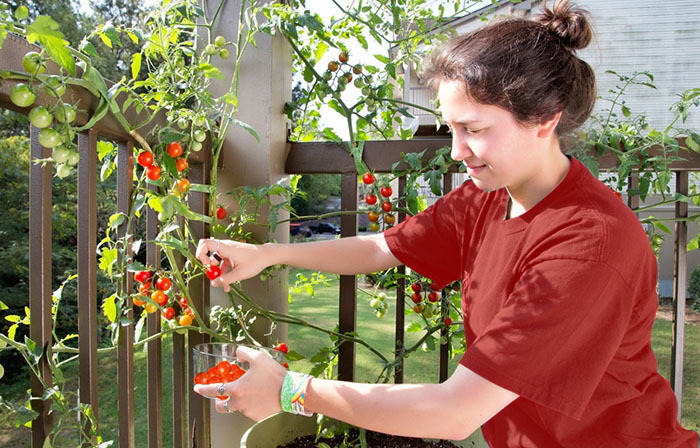 Plant Placement
The position of your plants will be determined by the dimensions of your balcony garden, and the current and mature sizes of your chosen plants. Larger plants go better in pots on the ground where they're in the background to contrast others. From above you can put hanging baskets of ferns, tomatoes, or other cascading plants to fill the gap. Going with artificial lawn is never a bad idea and it adds an extra touch of green to your small space. Here's containers gardening ideas that can guide you to change small spaces to urband balcony gardens.
Building your own frame to fit pots vertically saves a lot of space and gives you a balcony garden with minimal floor space. There are many vertical gardening ideas online that'll suit your walls and can be constructed from materials you can find lying around the home. Beautiful arrangements can be achieved, to create a vibrant and functional talking point for when you have guests visiting.
Maintenance
Keeping your plants neat is a meditating activity if done on a regular basis. Plant are quick to steal the heart and before you know it they will become and integral and much-loved part of your home. Regular watering, pruning and trimming will become a part of your routine, and you will reap the rewards in return though your new, peaceful and serene balcony setting.