Introduction
As the popularity of electric bicycles as a viable means of transit grows, so does the general interest in them. What may seem like an innocent interest in your unique form of transit can sometimes get malicious. Without any ideas on protecting your e-bike, you can become a victim of theft. It is worse if you have no measures in place, both to prevent this loss and to retrieve it after.
Due to a lack of a hefty build and body like a car, securing your electric bicycle may seem puzzling at first. With the right advice, you can begin exploring practical methods of keeping it safe. Most of it depends on your alertness. You must know areas not to park and security measures to nurture. In this article, you can learn some tips to protect your electric bike against theft.
Tips Against E-bike Theft
You are the first line of defense in keeping your e-bike safe from theft. Some habits help you stay ready for the unexpected. And even though you can't predict the actions of criminals, you can still control how it all ends. Here are some tips against e-bike theft:
Use Multiple Secure Locks
A lock is the first defense you can equip your e-bike with to protect it from theft. Depending on how long you stop during your ride, only one or two may be necessary to carry with you. If you intend to leave it parked for extended periods away from your view, you must ensure the e-bike is equipped to be on its own. The best way to do this is to invest in high-quality bike locks.
Thieves are often discouraged when they see a bike with multiple locks, being more attracted to the easier-looking prospects. A difficult one means more time will be spent fiddling with the locks, which can attract attention. By not making your e-bike a target, most thieves will ignore it for an easy option. Consider heavy-duty U-locks or chain locks that can't be easily cut.
Leave it Inside
Another way to ensure your electric bike's safety is to keep it inside. This makes it more difficult for an unknown figure to steal your valuable asset. To do this successfully, ensure you get an e-bike built with aluminum. This tends to be as strong as steel but is usually more convenient to carry and store. Most high-quality e-bikes are built with this material to ensure ease of use and longevity.
Keeping your e-bike inside should be like a habit, especially when it is convenient or you have locations you frequent. You only have to look for a creative way to store it in places where it won't disturb or be affected by other things. These can include safe areas of your home, office, or garage. If you must park outside, choose a good spot.
Park in Exposed Areas
When you are outside on your electric bike, stopping and staying away from it must be intentional. Make sure you park and secure it in an exposed area away from dark shadows. Thieves are less interested in breaking or toying with your locks when they know they can be easily spotted. The first step in deterring one is to make sure they have no choice but to perpetrate their acts in full public view.
The e-bike should be in a shady spot where not only you but anyone can adequately observe the movements around your valuable equipment. Look for somewhere away from direct sunlight, but right where you can see everything that goes on around it from your stop. This way, you can easily react before the theft can be attempted. Alternatively, you can get a folding e-bike like the KBO Flip that can be carried and stored inside.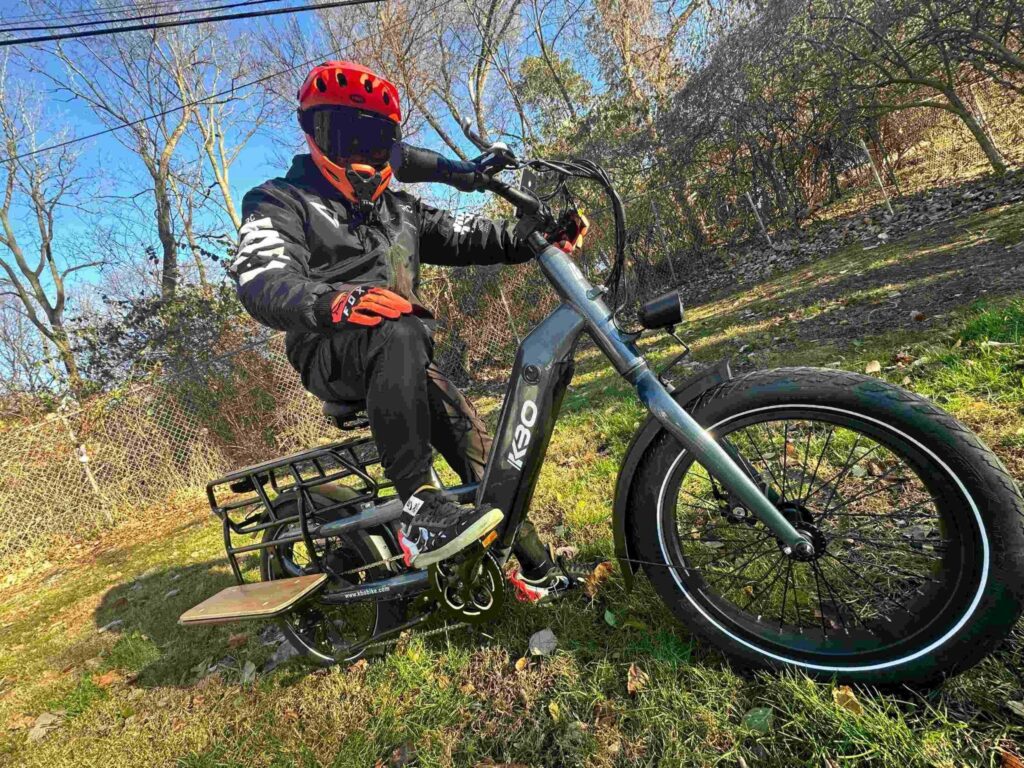 Use a GPS Tracker
GPS trackers are small devices used to determine a specific location via a network of satellites. Using one is often a great investment in keeping your e-bike with you. Its presence can deter petty thieves since it means they can be easily tracked. A sticker of the GPS tracker is enough to get the message across. However, this only works in places you're less likely to encounter highly skilled criminals who can remove the tracking.
In urban areas or locations where the e-bike can fall prey to thieves skilled enough to deactivate it, the best thing is to hide any signs of the tracker. Some have features that enable geofencing, which allows you to receive an alert if the electric bike leaves a certain perimeter. Alternatively, you can use AirTags, which are cheaper and can get the job done while staying out of sight.
Detach the Battery
If you think thieves are interested in your e-bike because they love cycling so much, you may be wrong. The main reason they are an easy target is their battery, which is also the significant difference they share with traditional bicycles. The e-bike can provide an enjoyable ride due to the battery's charge and the output of power from the motor. However, the charge is the only detachable option that can render it useless.
For this to be a viable option, your bike must be using a removable battery. You can easily detach this when you disembark and take it inside with you after parking. This can make you less of a target for theft since the e-bike is more difficult for them to pedal and ride off. KBO e-bikes use a detachable battery that can be easily removed or locked with a key.
In Conclusion
The number one priority of any e-bike owner is keeping it safe from thieves. There are many ways to approach this worthy investment. One of these includes securing the e-bike with multiple secure locks after parking. While this may deter thieves, you can also take it inside or detach its valuable battery. Using a GPS tracker can cost a bit, but is a sure way to recover a stolen bike. Explore the options provided or seek other more practical means closer to you. The important thing is to ensure your e-bike can serve your personal requirements without external interference.