The Future of Urban Transportation: All-Terrain Scooters
All terrain electric scooters are an excellent alternative to traditional bicycles or off-road vehicles, providing a more environmentally friendly and efficient way to enjoy the outdoors. They are prevalent among biking enthusiasts and hobbyists. However, this off road electric scooter also comes in handy for running errands or commuting in areas where riding regular scooters is inconvenient.
An all terrain electric scooter usually features strong frames built of robust and durable metals like aluminum. Other features include taillights and headlights to make riding safer throughout the day. They may also have additional features such as handlebars and adjustable seats to make hanging a pleasant experience.
Since they have larger tires and wheels, powerful motors, and more robust suspension systems, they can navigate rough terrains more easily. Hence, these e-scooters are perfect for riding on rough terrain, uneven surfaces, gravel paths, etc.
Overview of Eagle One Pro and Apollo Phantom 2023 Scooters
When buying the best all-terrain electric scooter, there aren't many models like the Eagle One Pro and Apollo Phantom 2023 for exceptional power and speed. Both scooters offer top speed, incredible portability, and impressive battery performance.
If an electric scooter adult needs clarification about buying the robust Eagle One Pro or the promising Apollo Phantom, here is a quick comparison of their design, features, and performance.
Design and Build Quality
Eagle One Pro's Design and Build Quality
The Varla Eagle One Pro electric scooter scores high with its durable, robust deck and frame. The bike's deck, built out of aircraft-grade aluminum, offers a non-slip surface to give a secure platform to the rider.
The hydraulic brakes guarantee reliable stopping power, and an LCD screen shows the current speed and mileage information.
The high-strength steel frame of the scooter will withstand the test of time and is sure to last for years. As a result, the Varla Eagle One Pro offers an enjoyable, safe, and smoother ride. In addition, the e-scooter weighs 90 lbs. with a maximum rider load capacity of 330 lbs. That means it's a perfect riding vehicle for people of all ages and physiques.
Apollo Phantom 2023's Design and Build Quality
The design of the new Apollo Phantom 2023 electric scooter has been significantly improved from its predecessor. One of the most notable things about the new design is that the company focused not only on packing greater power and larger batteries, a hallmark of all Apollo electric scooters, but also on controllability. In addition, the touchpoints and interface are also visibly improved with the new controller.
Riding the scooter with a larger throttle paddle is easier, especially when wearing gloves. A larger throttle paddle makes, especially when wearing gloves. With new turn signals, LED lights are present in both the rear and the front.
Comparison of the Design and Build Quality of Both Scooters
Although the Apollo Phantom features an appealing and well-designed hex display, a significant drawback to the screen is that it may b dull in direct sunlight. In addition, the Phantom is built of forged aluminum, and handlebars are made from a single piece of metal. Steering damping is stiff, so the rider must work harder to turn the scooter.
The Varla Eagle One Pro's design features and build quality are superior. Equipped with huge 11-inch air tubeless tires, compared to the Phantom's 10-inch tires, it ticks the boxes for a durable off-road beast. In addition, the scooter has high-strength steel handlebars with adjustability and controls for a safer and smoother ride.
Performance
Eagle One Pro's performance
The Varla Eagle One Pro electric scooter gives a powerful performance with its dual-motor system. The scooter delivers an output of 2600W.
The motors, located in the hub of each wheel, provide 36 Nm of torque, allowing the Varla Eagle One Pro to navigate rough terrains easily while maintaining high speeds. The dual-motor electric scooter has a top speed of 45 mph and can maneuver around steep hills with its powerful system. In addition, the electric scooter can climb at a 35-degree climbing angle. The large 11-inch pneumatic tires will help the rider have an excellent grip on different terrains, while the dual front and rear suspension systems make riding on sidewalks or uneven paths easier.
Apollo Phantom 2023's Performance
The Phantom 2023 impresses critics and e-scooter enthusiasts with its range, top speed, and quadruple spring suspension. The scooter comes with a smart regenerative braking system. It can climb hills with a maximum load of 300 lbs. Equipped with a faster and brighter display compared to its predecessor and smart features enabled through the Apollo app; the scooter guarantees a comfortable riding experience on rough terrains.
Comparison of the Performance of Both Scooters
Both models guarantee top speeds. The Varla electric scooter has a top speed of 45 mph compared to the 41 mph of the Apollo Phantom. The Varla Eagle One Pro also offers more range (45 miles) than the Phantom (40 miles).
While both are long-range electric scooters with powerful motors and plenty of torque, the Phantom 2023 electric scooter has a 1200W motor compared to the dual 1000W motors on the Eagle One Pro. That may mean accelerating from a standstill or climbing hills may be easier with Apollo Phantom.
But there's one exciting thing. While the Apollo Phantom comes with more powerful motors, it can only climb inclines of 25 degrees. However, the Eagle One Pro can climb slopes of 35 degrees.
Features
Eagle One Pro's Features
This popular electric scooter boasts a high-capacity 27 Ah 60V lithium-ion battery pack that allows it to run for a long distance on a single charge. In addition, the two 1000-Watt brushless hub motors can provide up to 1600W of power for a maximum output of 3200 Watts.
With all that power, it's no surprise that this scooter can reach up to 45 miles per hour. In addition, the high-performance electric scooter weighs 90 lbs. but can carry up to 330 lbs. The brand also offers an extra pair of brake pads with this model in case the originals wear out and need replacement.
Apollo Phantom 2023's Features
The scooter reaches a top speed of 41 mph when electric scooter adult switches on the 'Ludo Mode,' for unleashing 1,200 watts of power from each of the motors. In addition, the touchpoints, the interface, and the new controller all get a makeover.
A larger throttle paddle makes it easier to ride the scooter while wearing gloves. In addition, the Apollo Phantom features powerful regenerative braking for supplementing the scooter's mechanical disk brakes and dumping energy back into the battery. Also, the smart scooter integrates with the brand's smartphone app so that the riders can benefit from added features such as GPS navigation.
Comparison of the Features of Both Scooters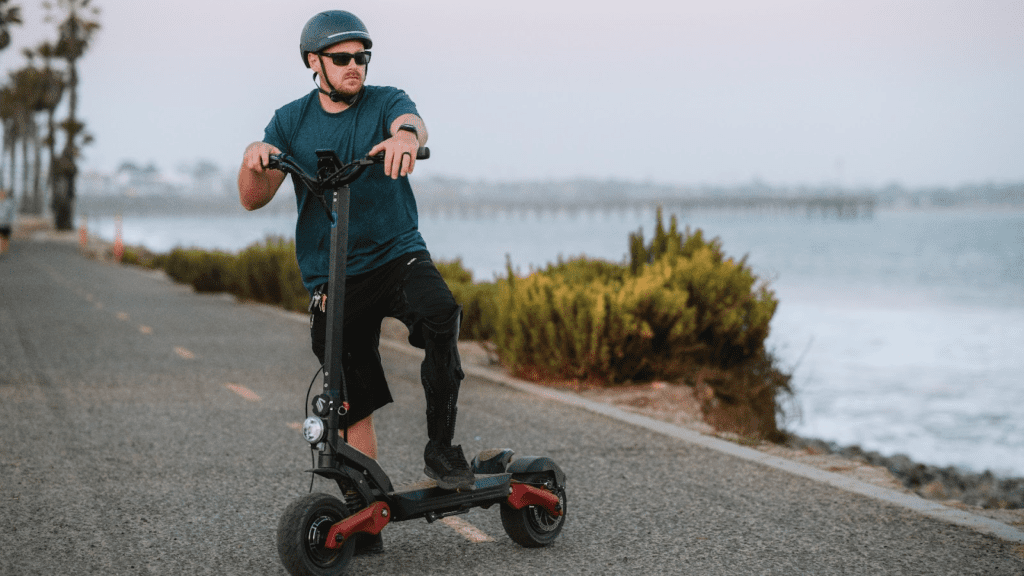 This electric scooter for adults has a slightly greater battery capacity than the Apollo Phantom, measuring 27Ah versus 23.4Ah. But the best part about Varla's Eagle One Pro is that it has two charging ports for faster charging.
The 11-inch tires on the Varla Eagle One Pro offer a smoother ride than the 10-inch ones on the Apollo Phantom because they absorb the shocks and bumps on the uneven surface.
The Apollo weighs 77 lbs. and is lighter than the Eagle One Pro, which is 90 lbs.
The Eagle One Pro has powerful dual 1000W motors that can propel you at up to 45mph speeds and allow you to climb hills up to 35-degree inclines. On the other hand, the Apollo Phantom 2023 delivers 1200W of power but can enable the riders to climb only 35-degree inclines.
Price and Value
The price of the Eagle One Pro is $2099, whereas the price of the Apollo Phantom is $2199.
Both scooters are excellent choices if an electric scooter adult is looking for a nice folding electric scooter.
However, if you need a reasonable and feature-packed best electric scooter that is durable, then you should opt for Verla's Eagle One Pro.
Conclusion
Varla Eagle One Pro and the Apollo Phantom are recommended as you can know some info in this article. If you live in a hilly area, they are great choices as all-terrain transportation tools.